Working within the safety parameters provided by School Districts 61, 62 and 63, we are pleased to encourage students to safely go outside and stop to count the flowers. Exercising both the brain and encouraging the benefits of our natural environment for mental health, we encourage residents of Greater Victoria to join in this fun event by counting all the flowers they can see. Students and schools are a major part of this counting effort and a prize goes to the winning class.
Calling all Grade 4 & 5 students! See the Greater Victoria Flower Count Information Sheet for reference.
Download and print the Student Count Sheet here.
Flower Count 2021 takes place from March 3 at 8am to March 10 at 3:30pm.
This year's winning class will each receive:
A gift certificate for afternoon tea at The Teahouse at Abkhazi Garden for each student, plus seeds to plant your own flowers for next year's count. Valued at $60 each student (max. cohort/class size of 28)

Schools Program 2020 Winner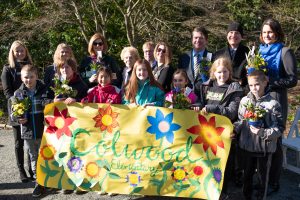 Schools Program 2019 Winner
Schools Program 2018 Winner
John Stubbs Memorial Elementary
Schools Program 2017 Winner
Ms. Holmes' Class
Total Blooms: 23,418,480
Schools Program 2014 Winner
École John Stubbs
Lukas Laurie's Grade 5 Class
Total Blooms: 1,101,380,293
Schools Program 2013 Winner
Ms. Shemilt's Class
Total Blooms: 96,385,850
 Schools Program 2012 Winner
Ms. Connelly's Class
Total Blooms: 49,538,676
Schools Program 2011 Winner
Cordova Bay Elementary School
Mrs. Susan Holmes
Total Blooms: 30,425,335
Schools Program 2010 Winner
Willows Elementary School
Ms. Westby's Class
Total Blooms: 14,011,806,926
Schools Program 2008 Winner
Ms. Keeb's Grade 2 Class
Total Blooms: 526,005,399