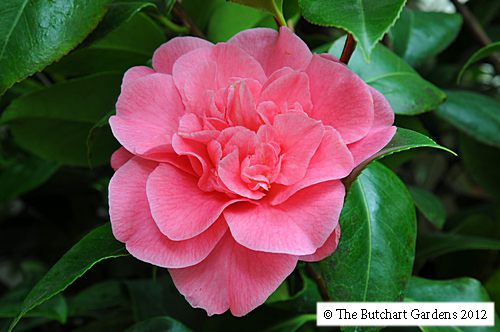 The Abkhazi Garden is an exquisite heritage home and garden located in Victoria, British Columbia, a city known for its wonderful gardens. Prince and Princess Abkhazi began creating their garden in 1946. This was the year they married and settled in Victoria, after living separate lives touched by both privilege and tragedy. They immediately began to develop their one-acre property, and continued to maintain and improve the garden throughout their lives together.
Beacon Hill Park
Beacon Hill Park is one of downtown Victoria's crown jewels. The 200 acres was officially established as a park in 1882, after being set aside in 1858 by James Douglas, governor of Vancouver Island. Beacon Hill Park was named after a pair of masts strategically placed on a hill to act as a beacon and navigational aid to mariners approaching Victoria's inner harbour.
Butchart Gardens
The Butchart Gardens offers 22ha (55 acres) of wonderful floral display located in Greater Victoria on Vancouver Island. Throughout the seasons there is always something of interest in the various gardens: from the fragrant, winter blooming shrubs, to the fresh delights of spring, to the abundance of summer colour, to the grand finale of autumn.
Finnerty Gardens University of Victoria
One of Canada's best collections of rhododendrons, many of which were started from seed obtained from famous plant explorers, is on display in the University Finnerty Gardens. The garden contains more than over 4,000 different trees and shrubs with more than 1,500 rhododendron and azalea plants, including 200 collected rhododendron species, and a spectacular range of companion plants: ferns, vines, bulbs, groundcovers, ornamentals; artistically displayed on a 2.6 hectare (6.5 acre) site at the southwest corner of UVic's campus. Complementing the plant life are three tranquil ponds, an inviting network of winding paths and dozens of benches, each with its own distinctive view of the gardens' ever-changing splendour. The gardens have been carefully planned and developed to provide a rich and changing array of colour, scent, form and texture all year found. In April and May, you will see the rhododendrons at their best.
The Gardens at HCP
A demonstration and education garden with over 100 acres of displays of heathers, rhododendrons, perennials and much more. We enjoy the enchanting Takata Japanese garden in a wooded hillside.
Hatley Gardens
In 1912, James and Laura Dunsmuir engaged Boston landscape firm Brett and Hall to develop a landscape plan for the entire estate. They prepared a classic design for an Edwardian park that included a series of nine garden rooms. The showpieces of the park are generally considered to be the formal gardens of which the Italian, the Rose and the Japanese gardens are the best known.
Garden Clubs and Societies
Peninsula Garden Club
Vancouver Island Heather Society
Vancouver Island Rock Alpine Garden Society
Victoria Horticultural Society
Victoria Rhododendron Society
Gardening Tours
Victorian Garden Tours
Gardens British Columbia
Regional Parks